Christian et Bente Reber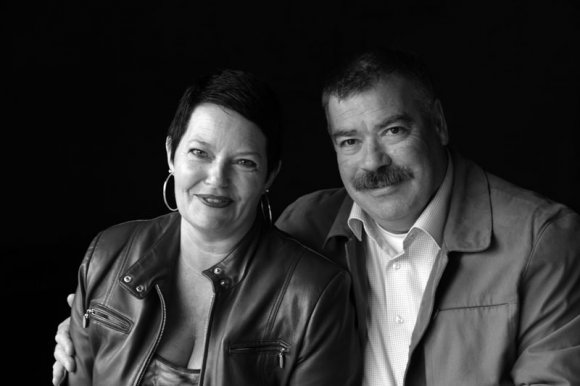 Christian and Bente, estate agents
Why didn't you come with your wife to tell me why you love your job?
Unfortunately she is busy with clients at the moment, which is a pity as
it's due to her that I opened this estate agency.
I trained as a chef and I ran the Restaurant des Sports. One thing led to another and for several years I managed La Pote. Looking after a discotèque demanded night work. Some of my customers entrusted me with the keys to their chalets or apartments when they were away, and then asked us if we could get involved with letting. It was my wife who started, once our twins were less dependent on her. We began in a tiny office of 14 square metres, where we both worked. In time, these same clients sometimes entrusted us with selling their properties. At first, not knowing much about the subject, we were able to make use of advice from an agency in Montana, and we trained ourselves as we went along. If, sometimes, I'm misunderstood because of my frank and direct style, this also has the advantage of being proof of my honest character. I have my business ethics and I stick to them.
And why do you love your job?
First, it's maybe because of the sheer discovery. I knew nothing about it, I learnt everything, and it's fascinating, exciting and stimulating. Also, being able to work with one's wife is an opportunity to be even more together. What's more, for my character, being able to organise my work whilst striving always to be better, that's the driving force of life. Our rental clients who come back every year whom we get to know well, and who tell us about how their families are growing up, sometimes become friends.
How would you advise a young person searching for a career?
To be inquisitive about the future, to choose a direction and then, when sure, to stick to it. You need perseverance to succeed in what you truly want to do.
Thank you, Christian, for taking part in this "I LOVE MY JOB" series of interviews!
Reber Interlocation
024 492 28 80
Translation : Gordon Douglas